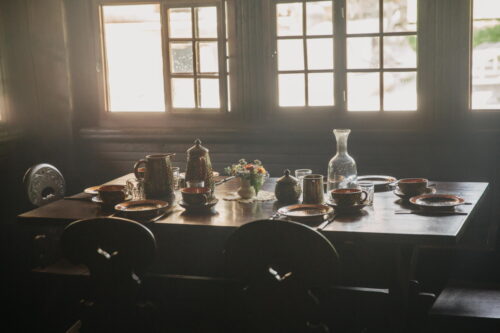 Memoirs and family histories can be shared in many ways. Here's a poetic version that not only caught my attention during a visit with a fellow writing friend, it made me catch my breath. The way she weaves experiences through and around the story of an object is fascinating. Thank you, Gretchen, for sharing your work with us.
Gretchen Blais is an author and surrealist and mixed media artist. She grew up in Santa Cruz, California – in her own words here's the start of her artistic path:
 
My journey as an artist began one rainy Thanksgiving Day 40 plus years ago when my family and I were visiting out of town.  My host suggested we all paint since it was too wet to be outside.  It was a memorable event for four adults and six young children.  I came away with an experience hard to describe.  I felt that something was released, never to become invisible again. My pencil began to travel with me wherever I went and the edgy surreal forms began to emerge seemingly on their own. Although I could sit and draw in the middle of chaos, the struggle to claim the title of Artist was a long journey with flashbacks to memories of elementary school when I wanted to be an artist when I grew up.  Finally, in my 70's, I am grown up and an artist.
 
Gretchen is retired from her career as a licensed psychotherapist and makes her home in southern New Mexico where she writes and continues to create new art. To view more of her work visit:
 www.gretchenblaisart.weebly.com.

Grandma's Table
by Gretchen Blais
I gaze at you and I hear
"I understand nothing of what I see."
I breathe.
I sit and a new experience
Begins to unfold.
It's a shift in my awareness,
In my understanding of you,
A picture and memories begins to emerge.
I see the seedling from whence you came.
I feel the earth receptive to your needs.
The rich soil moistened from the dew.
Water to nourish and help push your roots down
As the sun gently pulls you upward.
Up towards the sky, to reach higher and higher.
Your trunk, your branches, the energy flowing.
Day following day and year following year.
Until one day you reach a pinnacle.
A time comes and a transformation is upon you.
The ax, the saw driven into you fibers.
I sensed the lumberjack's movement.
The swing of the ax, the saw back and forth,
Until you succumbed and fell. On your way down,
Rubbing against other trees, you settled with a crash.
I see the ropes, the chains, the wagon dragging you,
Moving you to where you could be made into boards.
Where legs were carved and pieces merged together
To become something new – a table,
Grandma's table.
My eyes see them, the ones who sat and feasted at the table.
The ones who laughed and cried for generations.
The history of them is there.
My grandmother, my grandfather, my father and mother,
All my sisters and brothers, myself, my children and grandchildren.
The kitchen I remember, the activities I knew, the gatherings.
Games, homework, laughter, discussions, arguments, meals and so many soups
Each summer the canning of peaches, and pears, the tomatoes and corn.
The strings beans and the jellies and jams
To feed us through the winter as we sat at Grandma's table.
The sap no longer runs through the tree veins.
But the generations of those who touched the table,
They bring energy and it keeps moving.
Grandma's table keeps adding a rich tapestry
To each person's life, generation after generation.
***
(Photo courtesy of Kevin Schmid @Unsplash)