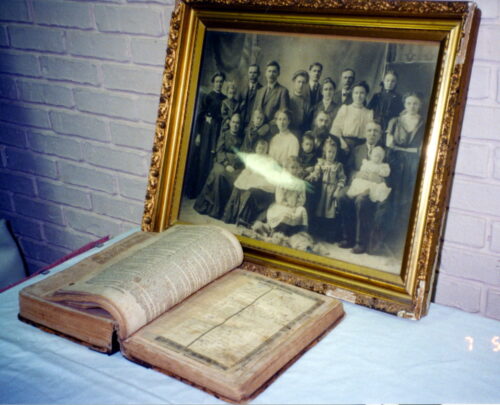 It's great to be back after a busy hiatus. I had the privilege of coaching talented students over the last several months as they worked on writing their memoirs. It's a thrill to help them bring their stories to life! Don't worry, I'll be starting a new class this fall, stay tuned. Plus, I'll share two new memoirs in the works, so excited to help bring these book babies to life.
Hope you'll come along on the journey for a new run of interesting stories here on the blog, as well as family history and memoir writing tips. May they inspire you to share your story. Family historian Dianna Hunter Snyder shares as our Guest Blogger:
"I am so thankful to come from a family that hung onto things. I have hundreds of old photos dating back as far as 1860. Different family members have so many items, including two sewing machines and a jigger that was used to make my great grandfather's hot toddy every night.
The keepsake I love most is the old family Bible, printed in 1841. It contains many family records of marriages, births, and deaths. My family has been so blessed with so much information to start with in our family history research. In recent years two of my 2nd cousins, who have both passed away now, and I worked to fill in some of the holes.
One of those missing bits of information was the burial place of our 3rd Great Grandfather & Grandmother. Jacob Shuff was born in about 1782 and died in 1824. We found the list of his estate in the county records of Scott County, KY, but nothing else. Finally my cousin Janice found a cemetery record for Hanna Houston Shuff in Scott County. She drove to the area and spent hours trying to find the cemetery to no avail.
Finally, a county worker stopped and asked if he could help her.
She was a bit uneasy about that as there was NO ONE ELSE around but at last explained about her search. The man said if she would follow him, he thought he could help her. Fearful, she went anyway. He unlocked a gated area where they kept work supplies and asked her to come see something. Near the back of the enclosure on a small mound of dirt sat the three pieces of Hannah Houston Shuff's headstone. She took a great picture of it to share with the family.
The county had, some years past, put in new roads along section lines, etc. Hannah's headstone showed up in the rubble, but no one knew where it came from. But it is the only real record we have of her death date.
Keep looking for your missing piece of information.
You never know where it may show up, even in cemetery storage. We have had a lot of surprises in our searches, but this was one of our most exciting ones. Happy Hunting.
---
I can't help but wonder, did Dianna's great grandfather's headstone ever turn up as well, or is it lost to history and road construction? Dianna has shared many wonderful stories from her family history in the Family History and Memoir Writers FaceBook Group. Here's another:

"One of the stories handed down is when my Grandfather Hunter made the Oklahoma Land Run on April 22, 1889. He staked a claim in what is now Okarche, OK. That night a couple with a family drove their wagon in and asked permission to spend the night. Grandpa said yes. By the next morning, Grandpa had sold his claim for a $20 gold piece, a rifle & one of the first ever made stem wound pocket watches. Grandpa Hunter went south to just above what is now Piedmont, OK, and found a claim there. It was there that he found a pretty lady, Lizzie Luella Shuff, and married her. The $20 gold piece is long gone, but the other items are carefully cared for by my brother's sons."
Thanks for sharing your stories, Dianna. For the rest of you with memories and family history to share, get in touch with me, and let's talk about bringing them to life. I'm looking forward to sharing more guest posts. Follow Remembering the Time on FaceBook, Instagram, and Pinterest for more personal history tips, inspiration, and help.
Karen