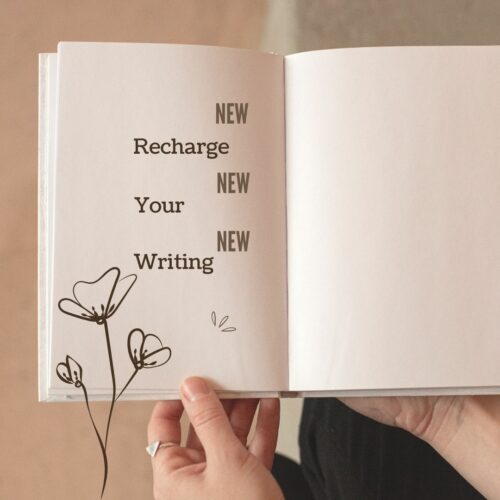 We all get a little stuck sometimes, in our lives and in our writing. When our kids were young we once took a summer day trip outing to some local caves. It was great to explore these because of their constant, cool temperature. That morning we left our Big White Bumpy Truck, as the kids had nicknamed the old crew cab pickup, parked in a flat, hardpacked sandy area. Then, we enjoyed our little hike and spelunking.

Early that afternoon, we packed up the picnic remains and returned to the truck, intent on getting one of the kids to a friend's birthday party.
We were about to learn a physics lesson.

We had not accounted for the strange behavior of desert sand under different temperatures. What had been the perfect parking spot, was now a fluffy, loose sand pit. You guessed it, we got stuck! We got creative and the kids learned how to use bushes to build a firm foundation for the tires. Hot, sweaty work but we made it out in time for the party. It would have been a crime to miss out on the pinata! This adventure taught us a hard-won lesson about the necessity of carrying a shovel on all of our backroad adventures.

So, when you're stuck in your writing what are some
handy tricks to get you out of the sand pit?

1 – Pick one small goal to hit with your writing. It might be telling the story of one event, or brainstorming everything you can think of around a photo for your book. It might be setting up your lifeline (I've created both a worksheet and a beautiful journal for you, both are available in the Etsy shop). Or you might write the draft of one chapter.

2 – Complete one of your writing goals. See step one for ideas. Don't keep returning to that same section or chapter, reworking it to death. Save the editing for later. Go on to the next chapter. The act of finishing something builds momentum and this gets you unstuck. This is like gaining momentum and traction while you push that stuck pickup out of the sand. It's hard at first but with focused effort you'll be rolling on your way to Dairy Queen for ice cream. Can you tell what motivates me?

3 – Make a date with yourself for focused writing time. Don't multi-task with a squirrel brain, it will make it tough to complete your goal. Make this enjoyable, your favorite drink, location, music, set the mood, and think of it as treating yourself.
Tip: Put your phone away during this time.
You are special and your writing is worth your undivided attention.
Let me know how it goes, and I'd love to hear your techniques for recharging your writing.
Best,
Karen
PS: Need more tips and prompts for beginning your story? Pick up a copy of my handy new guide Tell Your Life Story: 10 Tips and Techniques to Write Your Memoir. It's available in both e-book and print, here's a link https://amzn.to/3JC7ZA4