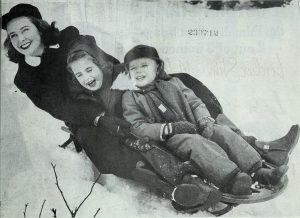 We love to hear our elders reminisce about holidays. Their memories help tie families together and strengthen bonds. These gatherings  sometimes bring challenges but they sure do stick in our hearts and minds. The topic of holidays is great material for story gathering, especially for the younger generations who'd love to know what your childhood was like. So much changes over the decades, world events, technology, customs — open up the door for a sneak peek into this part of your story. Make sure you add in some of these details as you go through the following questions. You'll all be glad you did.
The book Recording Your Family History  provides some great prompts for recording your childhood holiday memories:
 "Think back and describe who would be there
around the table and what it was like for you on that holiday."
Here's a few questions to start with:
Can you describe in detail one particularly memorable year?
What type of food would you eat?
What was your favorite tradition?
What was it like?
Were there special religious festivities as part of your holiday celebration?
Did you ever receive or give a gift with especially great meaning?
How about now, what do your holidays look like?
Do you still make special recipes handed down in your family?
What holidays have you celebrated that carried forward from your ancestors? Tamales? Lutefisk? Baklava?
I'd love to hear about your holiday memories, drop me a line.
Karen