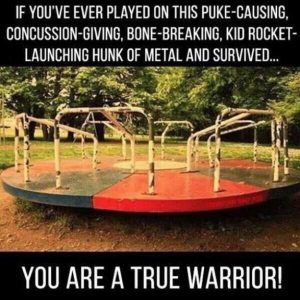 This image just makes me think of dads. Shout out to all the dads who ever spun this this amazing creation around till they were dizzy too and all us kids' feet were sticking straight out behind us and we screamed ourselves hoarse with laughter. You know what? The more I think about it, this other quote:
Good judgment comes from experience and experience? Well that comes from good judgment
was learned at the cost of skinned knees and barfing in the bushes after riding this little baby! You can't hardly find these anymore, how are we going to pass these life lessons on to our kids and grandkids?
If you enjoy this type of humor and need to lighten up your day check out Don't Forget to Breathe on Facebook (I haven't looked at everything, but it touts good clean humor and I like what I've seen so far.) A little humor to lighten up your life this weekend.
Laugh and yuck it up a bit with your family,
it's good for you!