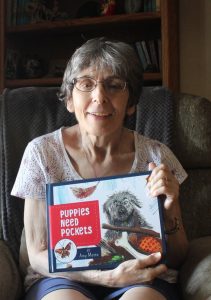 Helping people shift from dreaming and talking about a project they've longed to do to holding a finished book gives me more joy than you could possibly know. That's why I do what I do. Because I love watching my clients achieve the satisfaction of seeing their goals become reality.
Artist and author Amy Motto completed the draft for a wonderful children's book, Puppies Need Pockets, almost 20 years ago. However, it had been sitting in her desk while life events, ill health and time moved on. She never forgot about it and longed to see it come to completion. We began visiting about the possibilities earlier this year and I'm delighted to say that this week we ordered final copies of this charming, fun book. The look on her face when she held the physical fulfillment of her dream was priceless! Two boxes of Puppies Need Pockets are on their way to her as you read this and the book will be available on Amazon within a few days. She is thrilled!
While I can't promise that this happens for all of my clients as quickly as it happened for Amy, I have discovered that if you want to complete your book, memoir or life story project badly enough, it's usually only a matter of time (and high level guidance) before you get there. Plus, the process of moving toward your goal can be lots of fun too!
So… do you know someone who has great memories or a life story they'd like to save while it's fresh in their mind? Or maybe they have a book manuscript hiding in a desk drawer. Are they stuck and need help to get results and move that project forward? I have room for 5 Love Your Life-Story Breakthrough Sessions in my schedule in the next couple of weeks. There is no charge for these sessions but availability is limited to the first 5 people who contact me. I would be honored if you were to share this post with someone who struggles with how to get started, organize or even finish their life story project and wants to feel the incredible satisfaction of completing it. Or email or PM me if you could use some support yourself. I would love to help. Here's to all of us having the satisfaction of completing that life goal!