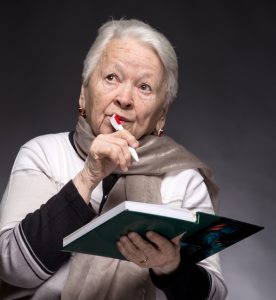 What's Got You Stuck? Here are three challenges I hear most often at workshops and coaching consultations.
I have so much material I don't know where to start.
I hate to write, how can I do this?
I don't know how to organize this project.
These problems are not insurmountable! In fact, sorting them out is a fun way to help you get started making your project a reality. I'll try to answer each of these concerns over the next couple weeks but let's just take the first one today.
Where to start when you have so much material?
Pick a point in your life that you most enjoy revisiting or telling stories about. Is it your childhood? Travels? Your experiences raising your own family? Starting at a time ripe with good memories is a way to build positive momentum and can help shape the theme of your book. You will probably end up expanding your scope but many great memoirs and oral histories stay with a narrow focus.
You don't have to write War and Peace to craft
 a personal history that delights you and your family.
So, here's what to do today—grab your favorite cup of whatever, sit down with a notebook or your computer and just brainstorm. For this exercise I prefer the old pencil and paper method, there is something about it that helps stimulate your little gray cells. Recall your chosen starting point and write down everything you can think of that relates, even if it seems like a rabbit trail. In this case rabbit trails are good! Don't worry about complete sentences or even thoughts; jot down words, phrases, events, impressions.
One thing that will help is incorporating each of your senses. Write down one idea that relates to this time in your life and covers each of the five senses. What is something you remember the feeling or texture of? Maybe it was your favorite quilt, or a new puppy, or the feel of a plank of wood. Sight—what visual memory stands out? A fishing pole? Your best friend? Taste—what food do you associate with this time in your life? Maybe it was a can of beans your dad opened when you were camping. Perhaps it was home-fried potatoes or Grandma's pie. Anyway, you get the idea.
This mental landing place is the most important geography in your story. It will help you decide what to keep and what to save for another day, another story. It is the place you will begin from and will provide the framework for "the rest of the story" as Mr. Paul Harvey used to say.
Let me know how this worked for you—I'd love to hear your ideas!
Karen