1—Everyone loves a celebration. What better event to celebrate than the basic fact of being alive? Whether you've had 70 years on the planet or want to celebrate the life of your 5-year-old, it's a great time to break out the cake and surprise your loved one with a story all their own. Celebrate the events and people that have made your life experience uniquely your own. Looking back over your life will help remind you of the victories, the accomplishments, the overcoming, the kindnesses great and small that have come together in your unique heart and soul to knit together your life. Your story matters and you are important!
2—Experience personal growth and insight. You may have had years to contemplate the why's and wherefores' of your life story. Now is the perfect time to consider what you've learned, process it, maybe even re-frame your responses in memory to help you heal and move forward in a healthy way.
Where have you struggled? How did you overcome? What would you want your children and grandchildren to know from your hard-won experience? You have a responsibility to pass it on.
The Rev. Berndt of the Good Samaritan Society says:
"It is an incredible gift to be the recipient of someone's legacy. It can be life transforming. However, I have also learned that the opportunity to leave a legacy isn't something that only other people do. As I grow older, I am more and more convinced of the importance of asking myself, "What legacy from the wisdom of lifelong experience am I …sharing with others?" You see, this is the two-way blessing of legacies. Our lives can be shaped by the legacies that others share with us, but in turn, we have a responsibility and a challenge to share the wisdom …"and experience we have gathered over the years."
Perhaps other forces shaped your life? Do you have an immigrant story or a war-time experience, poverty or wealth, a disability or just making something precious out of the ordinary?
Science has shown that the health benefits of journaling and sharing your story are enormous
In her blog "Heart and Craft of Lifewriting" writer Sharon Lippincott comments on a memoir entitled Growing Old, by Swiss psychoanalyst Danielle Quinodoz: "The book focuses on the enormous value elderly people derive from reviewing their memories and attaining an integrated overview of their lives, …People who are able to view their lives in this meaningful way experience more joy in living…They tend to approach aging more actively, retaining curiosity and involvement with life and the people around them…."
3—Pass along a lifetime of learned wisdom and life skills. Whether it's your approach to living on a budget, handling life events, recovering from tragedy, the importance of your faith or simply your best tips for leading the good life, your family needs to know this. Think of the many articles (share link) where elders have been interviewed about what they've learned over their life, those in your circle of influence crave this same information.
Think of the inspiration others have poured into your life and how you've been able to pay it forward to future generations. Connect the past and the present and be inspired to do good!
4—Share your family's origin story. Where did you come from? How did you get to where you are now? What traditions, customs, food and wisdom were Handed down by your ancestors? Mentoring, life skills, carpentry, music, jewelry making, craftsmanship, farming, and ranching, your life experience and family history is uniquely your own.
5—We are inspired by photographs of people, places, and events. Dig out those boxes of family pics and put provenance with them. Just the process of asking questions from family members about events and people depicted will unearth a great number of stories you probably haven't even heard yet. Or will add details to those long familiar events.
Preserve your family's memories of important family stories. Each photo can be used to prompt the story behind it, what was going on in the world, the people's lives in the picture. What happened before and after? The stories behind the faces in the photos are precious. It might even illuminate world events, think of collections of pioneer letters that let us know what life was like on a wagon train or collections of WWII letters. Take a look at this example, Dear Sis…WWII Letters: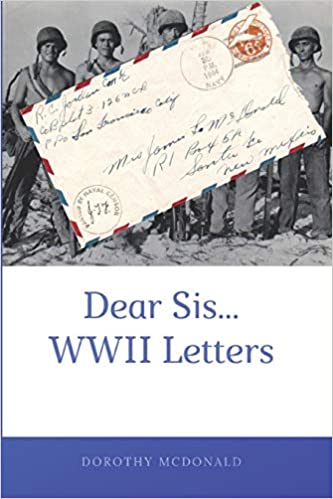 "…letters were written by ordinary young men who answered the call to duty and honor to protect their country and their families. Compiled into a narrative, the letters give a snapshot of life and events both on the war front and at home."
Your life story is a gift from you to the future, from your generation to the next one. It may be one of the most important things you share with those who come after you. Leave a legacy, a life legacy.
Remember, not only is your story a gift, each day of life is also, unwrap daily!
Let me know if you need help sharing your story, I'd love to visit with you!
Karen