Do you have a long held dream you'd thrill to see fulfilled? I have a wonderful one to share:
Las Cruces artist to realize dream
of publishing children's book.
Here's the back-story. Amy Motto is a retired Marriage and Family Therapist who also happens to have a Fine Arts degree. In 1990 she was diagnosed with Multiple Sclerosis but continued to work as a counselor for another 10 years. When her physical limitations affected her ability to continue in that field, she picked up her pen and a paintbrush.
At that time a silky furred little dog, Cassie, also came into her life. Amy says,
"Cassie was born behind a friend's barn under a car top carrier where her terrier mom whelped a litter of five puppies. The barn owner's wife was a secretary where I worked and she brought them all to work in a box when they were 6 weeks old. She said she had saved Cassie for me because she was the cutest (the only fuzzy one and the most laid back). I hadn't told her to save me one, but when I saw her I fell in love with her! She had great big brown button eyes. I asked my boss if I could keep her in my office until I could get home at lunch. He said okay and she fell asleep on my foot! My husband loved her too. He ended up singing to her in the middle of the night because she was whining and he thought if she kept me awake we would have to give her up."
Amy and the adorable mutt shared life together for fourteen years until Cassie passed away. "She taught me an even deeper appreciation of God's creation," Amy says. Cassie is the inspiration for a children's picture book,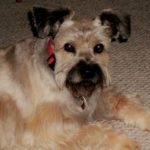 Puppies Need Pockets
which Amy wrote and illustrated back in 1999. She never forgot it, but tucked it carefully away in her desk for almost two decades, sidelined by the encroaching demands and limitations of dealing with MS. In 2017 she began pursuing options for publishing the book and decided this year to self publish it with the guidance of Karen Ray of Remembering the Time personal history service.
Amy's strong vision for her book and her desire to get it into the hands of children and their parents to enjoy brought the beautiful artwork out of the desk and into the light. Although her ability to paint is greatly reduced, she had clear ideas for the final graphic design touches on her book. She and Ray discussed the options and then Ray consulted with Jessica Connolly of Telos Designs.
Connolly has a wide range of experience in the design world and has produced an impressive array of work as well as original art. After 7 years practicing architecture in Austin, Texas, she struck out on her own, pursuing a passion for art and graphic design. In 2011 she established Telos Design, LLC. She works with corporate entities, nonprofit organizations and individuals to create unique logos, collateral material, special event invitations, and web designs. Her experience in both architecture and graphic design combine to bring a unique eye for color, proportion, and composition with a modern aesthetic.
Ray and Connolly have worked together on memoir projects for Remembering the Time's clients and are delighted to collaborate on a children's book. Connolly has young children at home and while Ray's are grown,  both moms have logged many hours reading to their kids. They recognized a winner of a children's book in Puppies Need Pockets. Connolly took Amy's ideas and "worked her magic" as Ray says, turning her story and  colorful artwork into a charming, fun to read book for children ages 3 to 10.
Remembering the Time specializes in helping people realize their dreams of saving their unique memories and experiences. Ray uses her interviewing and writing skills to draw out her clients' stories and create oral histories and beautiful books they can share with their families. Sometimes, as in Motto's case, this involves helping to guide a client through the fulfillment of their dream project.
Author Amy Motto is married and the mother of three grown sons, two of whom she fostered from infancy. She currently has two rescue dogs and a Sun Conure Parrot. Amy and her husband make their home in Las Cruces, New Mexico.  Puppies Need Pockets will be available summer 2018 for on Amazon.com and for private purchase. Contact karen@rememberingthetime.net to reserve a copy.
Motto will donate 5% of the proceeds from the sale of Puppies Need Pockets to Can Do Multiple Sclerosis (www.cando-ms.org)
Can Do MS specializes in transforming lives, delivering health and wellness education programs to help families living with MS thrive.
What project is languishing in your desk drawer? Give me a ring and let's make it happen!
Karen