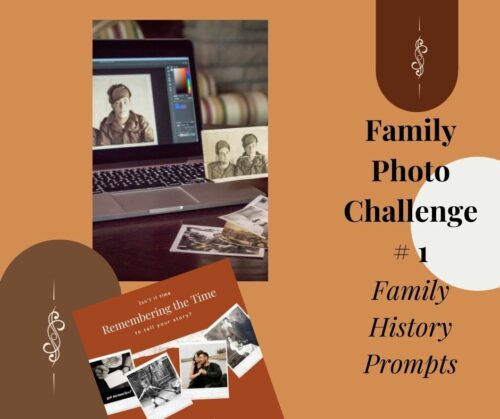 Challenge: Take 5 favorite photos from your family's collection. Collect them all in one day but just do the exercise with one per day. Write a 6-word memoir about each.
What's a 6 word memoir? These short memoirs are the brainchild of writer Larry Smith, editor of the online SMITH Magazine. The idea was inspired by Ernest Hemingway, who was asked to tell a story in just 6 words. He came up with this: "For sale: Baby shoes, never worn."

Here's how to use the technique with this challenge:

Start with an extensive list of words that describe your photo. Include anything you remember about it, the people, place, time, objects, feelings. Don't cross anything out and don't worry punctuation or spelling, just write! It helps to set a timer for 5 minutes and write as much as you can in that time.

Then circle three or four words that describe the photo and what you want to say about it. Now, write a phrase, sentence or list that is your 6 word memoir.

When you're done with the Family Photo Challenge you'll have 5 prompts for your memoir or family history. These can make great chapter titles too. Develop each of your five 6 word memoirs further and you'll have a chapter before you know it.
Fun tip: Make this a family activity and you'll have even more material for your story.

I'd love to read your 6 word mini memoirs and see your photo prompts, feel free to share on the Remembering the Time FaceBook page at https://www.facebook.com/RememberingtheTime, or join our private FaceBook group at https://www.facebook.com/groups/familyhistoryandmemoirwritersfellowship and share it there. You can also just drop me a note at karen@rememberingthetime.net. #familyhistory #familyhistorymatters #memoirwriting #genealogy #familyphotos