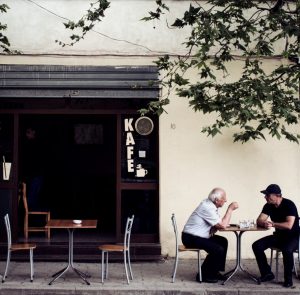 Helping someone share their story changes lives. The process of speaking and hearing memories and experiences will transform you both. We have a craving to be heard. This is one of the best gifts I can give people I work with. Yes, it is wonderful to hold your book in your hands and share this tangible expression with those you care about. But the entire process of creating it is validating and honoring.
Think of the stories that have stayed with you over the years. I bet one or two came to mind that have worked themselves down deep into your soul. It may have been an event or a person/relationship that was so transformative that you mark time in your life by referencing it or them. This can be a powerful force for good. Even simple life lessons shared with others have a way of resonating in our minds and hearts long after the conversation or event. Use this to gain momentum in getting started with your memoir. Or use it as a gift you give to someone you cherish—invite them to share their story and really listen.
Short and Sweet Memoir Exercise:
Give yourself 5 minutes:
Think about some person or event that was a trail marker in your life.
Write or talk out the basic story — no second guessing about whether it's important or not. Write or speak    everything you can get down in just 5 minutes, then stop.
Now, spend 10 more minutes, go back and fill in details, just scribble them in the margins.
Next, set it aside for a day or two.
Finally, go back and read it again and fill in anything else that you've recalled while your story was bubbling away on the back burner of your mind.
My free gift to you— just because October is my birthday month!
Want the above mini-memoir exercise professionally edited? I will be choosing one story (max 3 pages) and up to 3 photos sent in to Karen@rememberingthetime.net  and will work with you to edit, polish and make it the best it can be. Whether you do this for yourself or a family member or friend, now's your chance to craft a beautiful little life story (yes, they can be this short, just a snapshot). My goal is to bring you joy with your story. Do the exercise, send it in to me and I'll contact you if you're the winner.
Happy Story Telling!
Karen