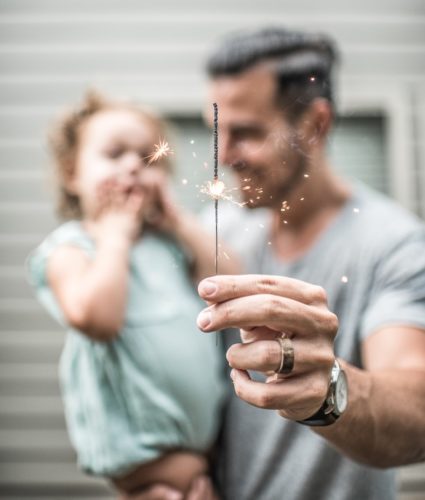 Summer is all about picnics, family gatherings, road trips and reunions. We take these trips and plan events with our families to create memories and enjoy each other. Need creative ideas to make the most of those events for your memory bank? Following are three areas to focus on to make the most of those memories and share them with others. You can even easily turn these travel tales into wonderful gifts to remember the journey, whether it was across the country or to Grandma's back yard. Keep reading for a few ideas.
All events have 3 parts that contribute to the fun:
1—Anticipation
Tell the story not just of the trip itself, what you saw, where you went, who you visited—take a few minutes to talk about the prep, a snap a few pics. Perhaps you can get a photo of everyone with the maps laid out on the kitchen table, or the pile of gear/suitcases assembled for the journey.
For example, one of my favorite before and after photos is of us with our kids and friends, prior to a backpack trip and then a similar shot after the trip. The contrast speaks volumes about the fun we had, the rain and mud, the grubby trail, the fish, the food and the bonding.
2—Experience
Think reactions, questions, closeups, what you thought about what you've seen is much more important than the bald fact that you were there. Think of the 5 Ws as you tell about your journey: Who, What, When, Where, Why. Since travel nearly always contains some element of the unexpected, bring this into your photo and story lineup.
Example 1 Camping Trip:
Did you take a family camping trip? Snap pics all along, start at the beginning when you're clean, then get some grubby shots, fish stories, toddlers in mud, the food, the tents, the campfire tales (share a favorite). Get that drippy s'more or flaming marshmallow on film. One of my best loved camping pics is my toddler son discovering dirt and the joy of putting things in his mouth. What makes it precious is his rambunctious smile, tousled hair and—- the story that followed immediately after when I discovered his chubby cheeks hid a mouthful of fat green grub he'd found while exploring.
Example 2-Family Reunion:
Be a Roving Reporter—ask a few questions and snap a photo to go with at your next reunion or family barbeque. Think outside the standard group shot and get some candids and close-ups too.
Does Aunt Mary make a killer potato salad or dessert? Take a photo of her with it, or someone else enjoying it with her. Ask her to share her secret for making it special. Even if she doesn't it makes a good anecdote to get her reaction. How long has she been making this recipe? Where did she get it?
Does your Uncle Manny have a way with BBQ? Snap some shots of him preparing, if it's that good I can guarantee he takes it pretty seriously, talk with him about his technique. Get quotes from the family about their reactions to his steaks, ribs or brisket. Think messy, closeup, smiling faces. Get some background on Manny, how and when did he discover a love of grilling? Did anybody teach him? Is he passing it along to the next generation—get pics of him with his protégé.
3—Remembering
We all turn into natural storytellers when reminiscing about things we've experienced. Make this work for you both during and after the trip. Capture the faces of young and old both as they listen to and tell stories. The wonder, the laughter, maybe the spooky campfire tale or the old stories of "remember when…." As a child my preferred pastime at family gatherings was sitting among the circle of adults at the campfire, listening to the hunting stories, the explorations, tales told of childhood adventures, births and accidents, the uproarious laughter.
Instead of leaving those hundreds of digital photographs on your phone, there are several inexpensive options to make the most of these memories and encourage storytelling and enjoying the time you spent together.
Photo book/story book—there are several online services to create wonderful photo books, some even allow you to download directly from your phone. A quick internet search will usually turn up a variety of coupons for these books or graphic services, allowing you to scratch that creative itch for just a few dollars. Or you can even make your own simple document and make copies at the local office store. Handmade is still treasured, move those digital memories into something tangible, it's easy, inexpensive and will delight those who receive a copy.
Whatever you decide to create, try making it collaborative—even the youngest kiddos can draw a picture of something they enjoyed about the trip. Treat it like fine art. Print it up! Have them tell you what they liked or their version of an event. This amps up the humor and charm factor, trust me. These story snippets are sure to elicit lots of love and laugher.
No matter our age, we all feel valued when

others listen and give us the gift of time.
What a great way to show you were paying attention by pulling those memories of your reunion, camping trip or stay-cation into a physical book. Ordinary life events are every bit as important in our memory banks as the weddings, vacations, birthdays and anniversaries. Have fun telling the story of your amazing, one of a kind, ordinary life!