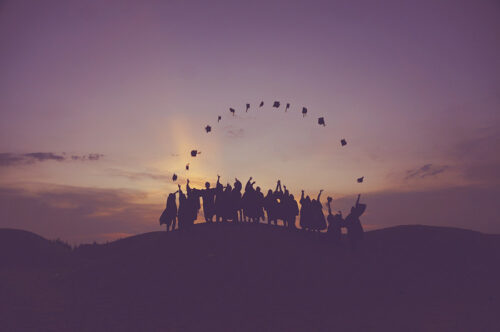 In Part 1 we talked about unique ways you can honor the graduates in your life. Specifically, creating a lifestory photo book of their life highlights. If you've been busy gathering material like photos, drawings, and keepsakes you're well on your way to making this memoir gift a reality.
Now, here's the rest of the story:
11 Interview Questions to Help You Add Interesting Details to Your Graduate's Story:
What do you think are the 3 most important things in life?
Who was/is your best friend in school and why?
What are 10 things that make you laugh?
What do you imagine the world will look like 100 years from now?
What is your favorite childhood memory?
Who was your favorite teacher and why?
Describe your pet(s) and why you enjoy them.
Describe your siblings and what you enjoy doing together.
What things do you enjoy for fun?
Who has been the kindest to you?
Describe a happy moment in your life.
And lastly, 3 creative ways to bring this gift to life:
Step 3 – Publish Your Story — Print It
Create a tangible book that your graduate can hold and page through, sharing with others. There are several different ways you can do this. While you can craft a beautiful digital book, I highly recommend creating a physical one for this purpose. Here are 3 ideas:
*Scrapbook–A few years ago this was all the rage and can still be a popular tool to creatively share your story. If you enjoy this dig out your supplies, pick up a new album and then give yourself some time to create a beautiful work of art with these saved memories.
*Shutterfly or Similar Photo Book—photo books that can be created online give you quite a bit of creative flexibility and will turn out a nicely bound high quality book. Coupons abound for these types of gifts and the digital creation process is designed to be pretty simple. And yes, you can have both text and photos in the book. Make sure to use both as years from now they'll want the story behind the photos. Frequent sales with these companies can often bring the price down to not much more than producing it at the local print shop.
*Copy Shop Coil Bound Book—if dollars are tight, never fear, your young person will appreciate and cherish this book format just as much. Here's a couple ways to do this—first–computer set up– take the photos and text you've collected and arrange them in a document on your computer. You can get creative with color, text styles and photo placement. When you like the way it looks create a PDF file to lock everything in place. Then, put it on a jump drive, take it to your local copy shop and have them print up several copies with a coil binding and nice quality paper. Use a heavier glossy cardstock for the cover and glossy finish paper inside to really make those photos pop. A book like this will usually run less than $20 to print.
For each of these options I encourage you to include at least a couple photos that are black and white. You can easily convert your color images to this classic style. They have a timeless quality that somehow shows the subject in a different way that really draws out their personality and character.
Now print or order several copies of your gift book. I guarantee it will stand out and it will be cherished, there is nothing more unique and precious than someone's life story. Your graduate will treasure this always. And of course, you'll want one for yourself and other family members as well.
Got questions about how to do this? Feel free to contact me! Have fun and happy graduation to all those students.